01.01.1970
Falcons in the hood (EN, original)

ABU DHABI // Some gun enthusiasts will pay big money for the tiniest weapons.

A Moscow-based company is exhibiting its miniature, functioning replicas of high-end firearms at the Abu Dhabi International Hunting and Equestrian Exhibition (Adihex), which was opened yesterday by Sheikh Hamdan bin Zayed, the Ruler's Representative in the Western Region and chairman of the Emirates Falconers' Club.

Sheikh Hamdan bin Zayed inspects a rifle made of high-grade walnut at Adihex yesterday. Lee Hoagland / The National

Miniature Arsenal makes models of machine guns, rifles and shotguns at a half or third of normal size. Just centimetres long, they can sell for Dh200,000.

The guns have working barrels, clips, scopes and other parts. However, the one thing they do not have is miniature ammunition.

There is a half-scale, 95mm-long gold Caracal F pistol, engraved with the letters "UAE. It is on sale, paired with a full-size version of the UAE-made gun, for Dh80,000. About 10 of the replicas have been made.


Caracal, owned by Tawazun Holding and the first regional manufacturer of handguns, is also selling the smaller models through a joint agreement.

According to Khamis Ateeq al Muwaijei, an assistant manager at Caracal, the miniatures are becoming popular among elites in the Emirates. "They are drawing interest because they are seen as high-quality souvenirs that are a source of local pride, he said.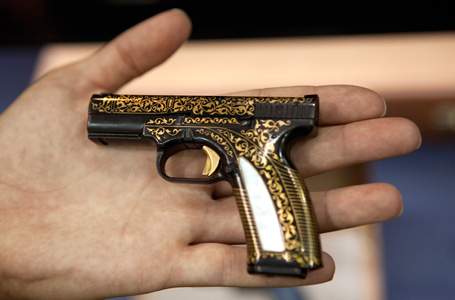 Dimitry Streshinsky, the owner of Miniature Arsenal and a long-time collector of antique weapons and armour, incorporated the Caracal into his line for Adihex "as a tribute to the United Arab Emirates and the weaponry it is making.

He said the tiny guns offered collectors the opportunity to own a version of a weapon to which they might not otherwise have access.

"It is perfect for collectors because it is exquisite, expensive, rare and fun to play with, he said. "They might be smaller, but they're also as real as it gets.


However, some visitors disagreed. Nader al Amer of Abu Dhabi thought they were "silly.

"Men usually like big guns, the biggest we can find, not baby guns or pocketbook guns, he said. "I'm not sure really what I would do with a toy gun like this.

Others, like Abdulla al Dhaheri and Othman al Marr, considered making a big purchase on a scaled-down, gold Colt pistol. The price: Dh88,000.

"As someone who collects swords, books and other things, it's always especially nice to have something specialised and knowing that other people will not have anything like it, Mr al Dhaheri said.


Mr Streshinsky started making his tiny weapons five years ago to fulfil a childhood dream, he said.

He was deeply impressed with a miniature gun exhibition he visited with his grandfather as a boy at the Museum of Artillery in Russia.

"I wanted to do something as beautiful as this, with such attention to detail that can be appreciated by others who love guns, he said.

The exhibition at the Abu Dhabi Exhibition Centre includes an Arabic coffee brewing competition and beauty contests for salukis and Arabian horses, as well as sales of safari vehicles and equipment, falcons and camels.

A highlight this year will be the World Arabian Horse Racing Conference, which starts today.
Article original: http://www.thenational.ae/apps/pbcs.dll/article?AID=/20100923/NATIONAL/709229845/1001
Falcons in the hood (EN, original)